There are many benefits of private home tutor over other options, including:
It can be very convenient
You can choose when and where you want the lessons to take place. This is especially nice if you have an older child who has busy after-school activities. That don't allow for getting to a classroom after school hours. It also gives you flexibility if you need lessons during holidays or other times when schools are closed.
If you have more than one child, this option also lets each child have their own tutor. Instead of sharing a single tutor with another student in the same grade level. You can even schedule classes at times that are most convenient for you. As long as they work around your child's schedule as well!
Your children will have their own private teacher
Your children will not have to share their tutor with any other students. This means that they will get 100% of the tutor's attention. When they're working together on homework or studying new material for tests or quizzes.
They won't have any distractions from other students around them or from people passing by. In the hallway outside their classroom while they're trying to concentrate on their studies.
This means that there will be no issues about sharing a tutor. With other students who may not be as well behaved as your own kids are!
In addition, having a private tutor ensures that each child gets exactly what they need when it comes time for them to do homework and study new material. There won't be any misunderstandings about what the parents expect from the lessons and how much time each lesson should take place each week!
You can choose someone who understands how YOUR CHILD learns best
When you hire someone like us here at Professional Tutors LLC , we will first meet with both you and your child so we can learn about how he or she learns best (visual, auditory, kinesthetic) so we know how best to work together to help your child learn.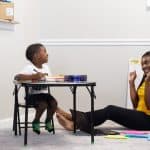 We can also meet with your child's teacher or principal so we can get a better idea of what your child is struggling with and what they need to work on the most. Having this information allows us to help you and your child to understand what's going on and how we can best help your child to improve their grades and performance in school.
You will have the opportunity to see how effective the lessons
The biggest concerns that parents have when they think about hiring a tutor is whether or not their kids will actually use the time with their tutor productively, or if they'll waste time playing games on their phone or computer instead of doing homework.
The great thing about home tutoring is that you will be able to see how much time each lesson takes place, and whether or not it is being used productively.
You can see if there are any areas where the lesson could be improved (for example, if your son spends too much time playing games instead of working on his homework) so you can ask for adjustments as needed!
Read more post about How to Motivate Your Child to Be Successful or another posts on Cudy Blog page.
Cudy is the perfect place to find a coach to help you develop your non-academic skills. To speak with a professional coach in Cudy, register and create an account today!