Are you considering enrolling your child in online classes? Here are some of the top benefits of choosing online tuition for your child.
1. Flexibility
You have the flexibility to learn at any time of the day and in any location. It makes a great option for students who work or have other commitments during traditional school hours.
You can complete courses from your own home, in a public library, or even at work if you want to! It's all up to you. If you miss a class, don't worry – simply watch it later on video.
You can also take a course at any time during the year and still earn credit for it. As long as you complete it within your time frame. Some students even prefer online classes.
Because they are able to fit them into their busy schedules without having to rearrange their lives around school schedules. It also gives them more control over their learning experience since they are able to access information and resources whenever they need them.
2. Save Money
Online courses allow you to save money on transportation costs by not having to drive yourself or have someone else drive you every day after school or during lunch breaks at work.
Especially if you have multiple children who attend different schools and/or different colleges/universities! Many colleges now offer free WiFi throughout campus so there is no longer any need for an expensive wireless connection in your dorm room or apartment.
However, if this is not available where you live, consider getting a high-speed internet connection. That is compatible with most college laptops so that everything can be done from home instead of having to go back and forth between locations every day.
Many colleges offer free tutoring through video conferencing services such as Skype or FaceTime which can help reduce transportation costs even further by allowing students access from home rather than driving back and forth between campus every day after class.
Especially helpful if they are living off-campus away from main campus! Some schools even offer discounted bus passes for off-campus residents. But it is always a good idea to check with your school to see if they offer any special programs or discounts for online students.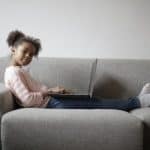 3. No Distractions
Many students struggle with distraction issues while in a traditional classroom setting which is why online classes are so beneficial.
You can watch your teacher's videos or complete coursework on your own time without having to worry about missing something that is being discussed in class or struggling to stay focused because there are so many distractions around you.
This is especially helpful for those who are easily distracted by their peers and find it difficult to stay focused in a traditional classroom setting where everyone else is chatting away, moving around, and checking their phones, laptops, etc.
It also helps students avoid embarrassing situations such as falling asleep in class or getting up from their seat to ask questions during class time because they feel uncomfortable asking the teacher during class.
Something that would never happen if they were taking an online course! The lack of distractions means more opportunities for success!
4. More Flexible Scheduling Options
Online courses offer much more flexible scheduling options than traditional classroom courses since students are able to access the material at any time of the day.
Without having to worry about arriving on campus at a certain time each day and leaving at another specific time each day like they would with a traditional course schedule.
This makes it easier for them to fit their classes into their already busy schedules. They still earn credit towards their degree without having to sacrifice hours of work or rearrange other important obligations that they may have in order to accommodate the course schedule.
Read more post about What do private tutors teach? or another beneficial posts on Cudy Blog page.
If you are looking for a tutor online, Cudy is the platform for you. Register on Cudy for free and begin your search. Tutors on the platform are qualified and experienced professionals who can help you achieve your goals. You can find a tutor for any subject on Cudy.