Singapore's education system is composed of the government's institutions and the private sector. As in many other countries, Singapore relies on the private sector to provide education to most of its students.
This system has become more prominent in recent years, especially as Singapore's educational system has struggled to cope with an increasing population.
Compared to other countries, Singapore is fairly good at promoting bilingualism, with 95% of the population able to speak English and Mandarin. In fact, the country is known as a bilingual country in Asia.
The education system promotes English proficiency and bilingualism, and it is compulsory for students to learn both English and Mandarin.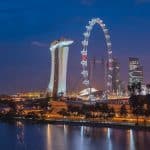 Singapore's Education System v.s. Switzerland's Education System
What does the Singapore and the Swiss education system have in common? As governments recognise the gap between the education system that was designed for the Industrial Age and the labour-market of the Information Age where technology is disrupting every industry, find out how Singapore intends to equip its citizens with the right skills to prepare them for the new global economy.
Cudy offers online tuition in Singapore. Find out more about Cudy. We help you get the most out of your education with free educational resources and free guides to help you ace your exams.