Helping kids with their homework can be a challenge. You want to help them but don't want to overwhelm them. It can be difficult to figure out how to help them without getting frustrated yourself.
There are a few things you can do that will help you without overloading your child. Try these 5 tips for helping kids with their homework.
1. A well-lit workspace
If you have a child who is struggling with their homework, you might want to make sure that you have a well-lit workspace to help them.
Also, the table or desk should be free of clutter and other distractions. That way, your child will have a clear space to work on their assignment.
2. A comfortable chair or place to sit
Your child should be as comfortable as possible when they are doing their homework. Making sure that their chair is as comfortable as possible will make assignment time a lot better for your child.
3. A book light to help kids with their homework
If your child needs to do their homework in the evening, a book light can be very helpful. This will help them to see their assignment book or work sheet.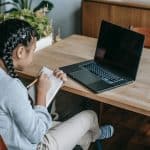 4. An alarm clock
If you have a child that struggles with their homework, you can help them out by getting an alarm clock.
This will help them to have a little bit of extra time to finish their homework. This will also help them to not feel rushed and stressed when they are trying to finish.
5. A gentle reminder
If your child is struggling with their homework, you might want to make sure that you have a gentle reminder, such as a timer. In order to help kids, you can't do that by pushing them.
Consequently a gentle reminder can help your child to complete their homework in a timely manner.

Have you tried any of these things? I'd love to hear about it. Read more post about 4 Benefits of Creative Writing That Will Help Singaporean Kidsor another beneficial posts on Cudy Blog page.
Improve your new skill in technology field directly from the qualified coach in Cudy. You could find the right coach in Cudy to teach you new skills. In Cudy, you can develop your academic skills as well as other non-academic skills based on your interests. With easy access, you can learn at your own pace.