Social Enterprise for Education
A social enterprise for education. Cudy aims to help students from all social stratums starting with Singapore.
Cudy is officially a Provisional Social Enterprise member partner of RaISE (The Singapore Centre for Social Enterprise).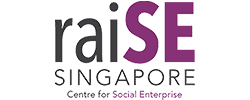 raiSE was set up to raise awareness on social entrepreneurship and raise support for social enterprises in Singapore.
Being a member partner of raISE would provide us the platform to reach out to even more students in need of academic help and to work with even more partners to deliver the help that students need through the Cudy platform and online live classes.
Cudy is honoured and proud to work together with raISE to realise our mission to make quality education more accessible for students and learners.
Cudy is an online marketplace and platform for live online tuition in Singapore.
Opportunity to collaborate
Cudy is looking to partner with all educational providers and partners from individuals to institutions with a social mission to deliver quality and affordable lessons to students. Send us an email at [email protected].